By Janae McKendry
Positive Psychology is not merely about being positive, thinking positive thoughts, or sharing positivity with the world. Its aim is not to feel happy at a given moment — it goes much deeper than that. It answers the question, "How can I flourish?" 
"If Positive Psychology is to be more than a "happiology" or a cheerful mood, we need to shift our focus to well-being."[1]Seligman, M. E. P. (2011). Flourish: A visionary new understanding of happiness and well-being. New York City, NY, US: Atria Books. Dr. Martin Seligman, the father of positive psychology and author of the book Flourish, unpacks exactly what it means to achieve a sense of health and well-being.
Disease Model to Health Model
When Positive Psychology was first developed, the primary objective was to move away from the traditional disease model. The disease model focuses on what is wrong with a person and assumes that by solely diagnosing and treating the illness, the person will automatically be happier and their problems will be solved. Psychologist Peter Kinderman describes the need to abandon this approach and calls for major change as this model is flawed:
"Traditional thinking about mental health care is profoundly flawed, and radical remedies are required. Our present approach to helping people in acute emotional distress is severely hampered by old-fashioned and incorrect ideas about the nature and origins of mental health problems, and vulnerable people suffer as a result of inappropriate treatment. We must move away from the 'disease model', which assumes that emotional distress is merely a symptom of biological illness, and instead embrace a psycho-logical and social approach to mental health and well-being that recognizes our essential and shared humanity."[2]Kinderman P. (2014) Introduction: The Disease Model of Mental Health: A System in Crisis. In: A Prescription for Psychiatry. Palgrave Macmillan, London. https://doi.org/10.1057/9781137408716_1
On the other hand, the health model lays the foundation for the study of well-being: positive psychology. Seligman says that "The aim of Positive Psychology is to catalyze a change in psychology from a preoccupation only with repairing the worst things in life to also building the best qualities in life."[3]Seligman, M. E. P. (2011). Flourish: A visionary new understanding of happiness and well-being. New York City, NY, US: Atria Books.
As this new form of psychology emerged in the late 1990s, its primary focus was to study three types of happiness: pleasure, engagement, and meaning. While these types contribute to happiness, they are only pieces to the pie (see diagram below). To build on this idea, Seligman released his new comprehensive theoretical model of well-being called PERMA. This model was designed to help people discover and learn how to build the five elements of flourishing:
P- Positive emotions
E- Engagement
R- Relationships
M- Meaning
A- Accomplishment
To understand this theory better, here is the definition of flourishing according to Seligman:
"Flourishing refers to the state we are in when we pay attention to each aspect of the PERMA model and build up a solid sense of well-being. We flourish when we cultivate our talents and strengths, develop deep and meaningful relationships, feel pleasure and enjoyment, and make a meaningful contribution to the world. We flourish when we find fulfillment in life along with achieving more traditional objectives related to success when we are truly living the "good life."[4]https://positivepsychologyofprophet.wordpress.com/2019/01/24/perma-model-and-the-positive-psychology/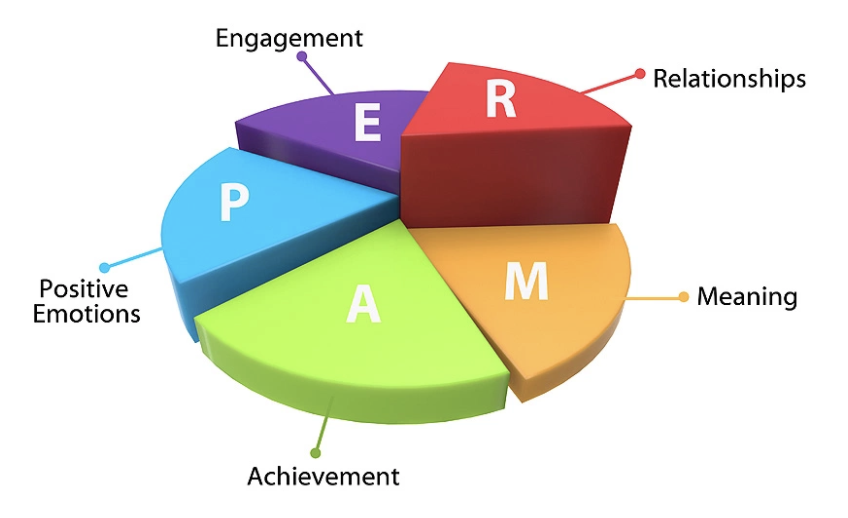 Conclusion
Undeniably, people desire to thrive and flourish. Thankfully, we have the PERMA model to help us build a flourishing life. The awareness and cultivation of these five elements are beneficial to pursue in their own right. However, according to research, pursuing the combination of all five building blocks is the key.
Stay tuned for the next post as we will dive even deeper into building a flourishing life through the five elements of PERMA.